Pipe Marking Labels
Supplying pipe markers and valve tags for over 14 years. If you're looking for pipe marking products that comply with British Standards (BS 1710) and American Standard (ASME/ANSI 13.1), we at Triala have the perfect solution. From pipeline identification Tapes and labels, to valve tags, we can assist with all your valve and pipe marking needs with a wide selection of pipe marking solutions, we can meet all our customers' specific pipe marking requirements.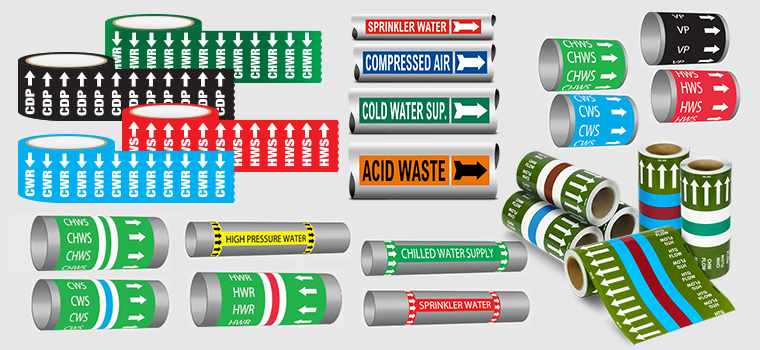 UAE manufactured pipe identification (ID) tapes and labels conforming to BS 1710 and using BS 4800 colours as well as AEME/ANSI 13.1 standards. Our pipe ID tape is printed to the highest standards and specifications offering many benefits to its users.
We, Triala the one and only avenue to provide the proper solutions and educations in the field of MEP identification and labeling in Dubai, UAE. The Engineers especially in MEP and Electromechanical Industry are interested in approaching Triala, is because we are able to manufacture their customized Identification and labeling requirements. We have gained a reputation especially across the MEP/Electromechanical industry in UAE, for supplying the highest quality labeling solutions. We've worked hard to earn an enviable reputation among our quality-conscious customers.
We are well known in the MEP construction industry as the supplier of Pipe Marking Tapes (LDPE/Vinyl) for Chilled Water Supply Identification, Hot Water Supply Identification, Condenstate Drain Water Pipe Identification, Sprinkler Pipe Identification, Fire fighting identification, Fire Extingushing Identification, Drainage - vent pipe Identification, Duct Marking Labels, Electrical Identification labels, Valve Tags, Equipment Tags, Conduit Marking Tapes, Cable Tray Labels, Cable Trunking Labels, Warning Tapes and Caution Tapes (both polyethylene and detectable), Cable protection tiles (PE/HDPE) and cover etc.
BS Standards 1710:1984, 1710:2014
BS 1710: Primary Scheme of Identification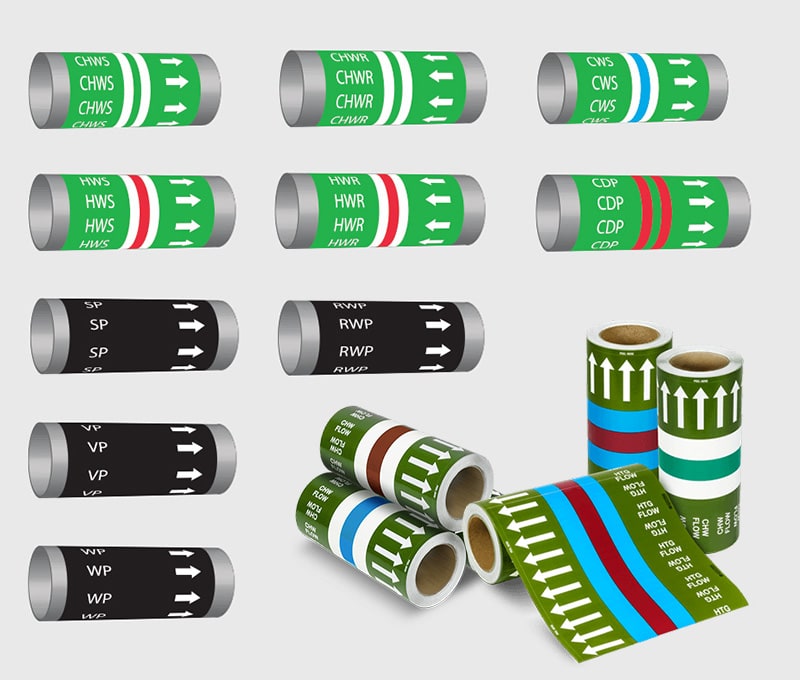 Non-Adhesive Pipeline Identification Bands:
CHILLED WATER SUPPLY (CHWS)
CHILLER WATER RETURN (CHWR)
HOT WATER SUPPLY (HWS)
HOT WATER RETURN (HWR)
CONDENSATE DRAIN WATER PIPE (CDP)
COLD WATER SUPPLY (CWS)
VENT PIPE (VP)
SOIL PIPE (SP)
WASTE PIPE (WP)
RAIN WATER PIPE (RWP)
Specifications
Size: 400mm x 50m rolls
Type: Non-Adhesive
Standard: British Standard
Note: Wrapped on pipes attached with double sided tape available separately.
BS 1710: Secondary Scheme of Identification
Self-Adhesive Pipeline Identification Bands (Identification Labels for Plumbing Service)
CHILLED WATER SUPPLY (CHWS)
CHILLER WATER RETURN (CHWR)
HOT WATER SUPPLY (HWS)
HOT WATER RETURN (HWR)
COLD WATER SUPPLY (CWS)
VENT PIPE (VP)
SOIL PIPE (SP)
WASTE PIPE (WP)
RAIN WATER PIPE (RWP)
CONDENSATE DRAIN WATER PIPE (CDP)
Specifications
Size: 50mm X 50m, 100mm X 50m, 150mm X 50m, 200mm X 50m rolls
Type: Self-Adhesive
Standard: British Standard
** Custom size also available
ANSI/ASME Standard 1981, 1996, 2007, 2015
Scheme of Identification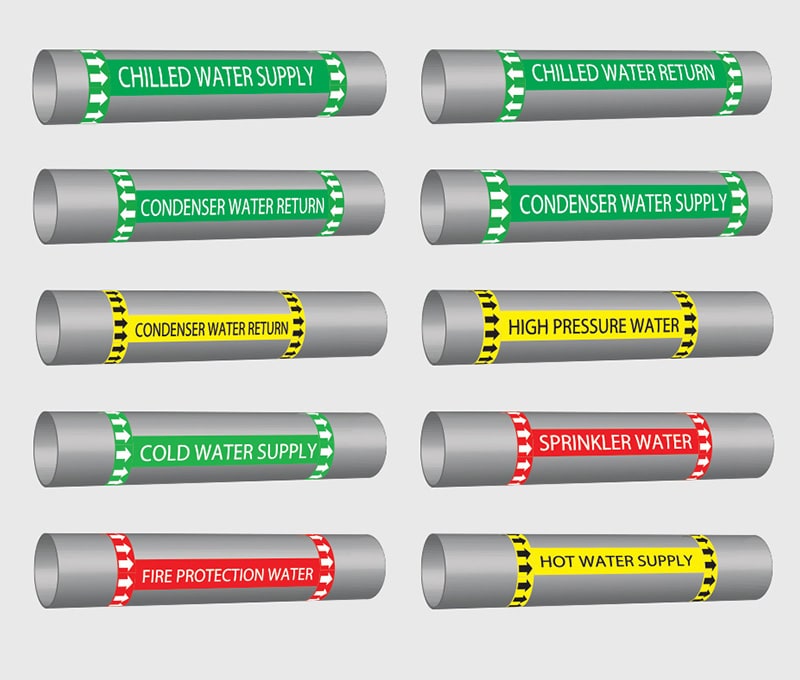 Self Adhesives Identification Labels
CHILLED WATER SUPPLY
CHILLER WATER RETURN
CONDENSER WATER SUPPLY
CONDENSER WATER RETURN
DOMESTICS HOT WATER
HIGH PRESSURE WATER
COLD WATER SUPPLY
SPRINKLER WATER
FIRE PROTECTION WATER
HOT WATER SUPPLY
Specifications
Labels Size: 400mm x 50mm, 300mm x 50mm
Arrow Tape Size: 50mm x 50m, 100mm x 50m rolls
Type: Self-Adhesive
Standard: ANSI/ASME
** Custom size also available
ANSI/ASME A13.1 2015