Safety Signs
As a leading specialist manufacturer and supplier of Safety Signs to the construction, hospitality and medical industry, Triala will offer a single source supply network with a nationwide coverage. All safety stickers, safety signs and safety boards are manufactured in house by our experienced team to make sure each individual job is done to the highest quality. If you cannot find what you are looking for or require any further assistance or information, please do not hesitate to reach us on +971 6 5745884 24/7 or send us an email atsales@trialame.com
Our Safety Sign Products
Fire Safety Signs
Fire Action Notice Signs
Fire Assembly Point Signs
Fire Door Signs
Fire Equipment Signs
Fire Exit Signs
Fire Extinguisher Signs
Fire Safety Signs
Fire Refuge Signs
Fire Instruction Signs
Safety Stickers
COSHH Stickers
Electrical Safety Stickers
First Aid Stickers
Hygiene Stickers
Hazard Stickers
Hazchem Stickers
Mandatory Stickers
No Smoking Stickers
Prohibition Stickers
Safe Working Load Stickers
Security Stickers
Warning Signs
Electrical Safety Signs
Site Safety Signs
Overhead Signs
Trip Signs
Flammable Signs
Explosive Signs
Asbestos Signs
Forklift Truck Signs
Safety Clothing Signs
Safety Clothing Signs
Head Protection Signs
Eye Protection Signs
Foot Protection Signs
Hand Protection Signs
Ear Protection Signs
Face Protection Signs
Work Place Signs
Mobile Phone Signs
Good Practice Signs
Machinery Signs
Quality Control Signs
Free Standing Signs
Glass Safety Signs
Access Signs
Pedestrian Signs
Keep Out Signs
General Access Signs
Keep Clear Signs
No Entry & No Exit Signs
Photo Luminescent Signs
(glow in the dark signs)
Exit Signs
Fire Exit Signs
Fire Action Signs
Fire Equipment Signs
Health & Safety Signs
Door Signs
Instruction & Assembly Signs
Marine Signs
Door Signs
Fire Door Signs
Standard Door Signs
Premier Door Signs
Toilet Signs
Information Signs
Recycling Signs
Dog Fouling Signs
General Information Signs
Hygiene & Cleaning Signs
CCTV Signs
Dementia Signs
Construction Signs
Temporary Road Signs
Information Signs
Warning Signs
Construction Safety Packs
Scaffold Signs
Personal Protection Signs - PPE
Site Safety Boards
Budget Signs
Mandatory Signs
Freestanding Signs
Prohibition Signs
Door Signs
Plastic Cone Signs
Parking Signs
CCTV Signs
General Signs
Recycling Signs
Site Traffic Signs
Helmet Stickers
Multi Language Signs
These signs are also known to many as ANSI signs and OSHA signs. There are many uses and applications for safety signs. The obvious and most common uses are Caution Signs and Danger Signs.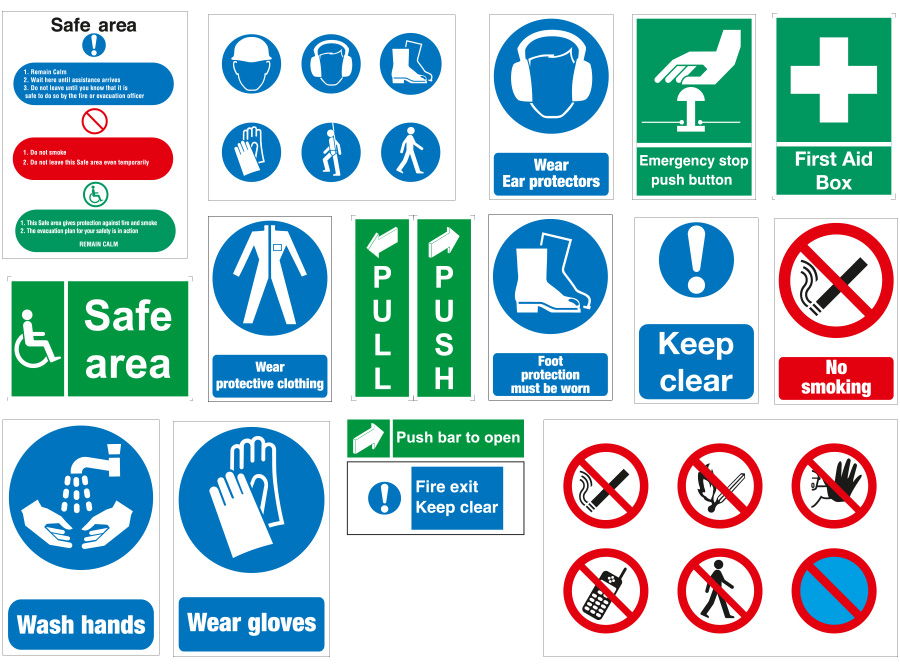 PPE Safety Signs
Personal Protection Equipments (PPE) safety signs are also known as mandatory safety signs alerts workers of hazards and creates an awareness in the work area demanding the need for these PPE Safety Signs. The most important and widely used PPE safety signs are displayed below.
Types of safety sign
Prohibition Signs, Fire Equipment Signs, Mandatory Signs (PPE Safety Signs), Safe Condition Signs and Warning Signs are the major classifications of Safety Signs.
Colours & shapes help distinguish between different categories of safety signs:

Fire equipment
Location of fire fighting equipment
Mandatory
A course of action which must be taken

Prohibition
Behaviours that are prohibited

Warning
Danger, warning and caution

Safe Condition
Escape routes and safety equipment
A note about colour:
BS colours are used and matched to pantones, screen inks and vinyls as closely as possible. Colours may vary slightly between sign batches, depending on method of production.
Click to enlarge the above images
Sign sizes & viewing distances
These are approximate maximum viewing distances for safety signs. Legibility of text from distance is dependent on letter height, these distances are intended as a rough guide only.

Choosing materials
Safety signs are availble in the following range of materials & fixings. Material codes are shown in brackets.
(V) Self adhesive Vinyl:

Sign message printed directly onto a flexible PVC with a high tack adhesive backing. Suitable for both interior & exterior use. Ensure the sign is fixed to a smooth, clean & non-porous surface.

(R) Rigid PVC plastic (1mm/3mm):

Rigid, lightweight & inexpensive - suitable for both interior & exterior use. Either 1mm or 3mm thick, depending on the size of the sign.

(S) Rigid PVC plastic - self adhesive:

1mm PVC with self adhesive backing for easy fixing.

(F) Foam PVC:

Lightweight, durable & suitable for both interior & exterior use.

(H) High Impact Polystyrene Sheet (HIPS):

A very tough, durable material that will withstand wilful destruction. It is flammable (under intense heat) so would not be suitable for use in high risk areas.

(P) Photoluminescent PVC:

Charged by ambient light these signs immediately illuminate in sudden darkness. An excellent material for directional fire escape & fire equipment signs.

(C) Polycarbonate:

A very tough, durable material that will withstand wilful destruction. It has a good fire rating.

(W) Aluminium - wall fixed:

A lightweight durable material for both interior & exterior use. The material of choice for most signmakers. Comes with 4 x 5mm drill holes for wall fixing.

(A) Aluminium - post mounted:

Comes with channel fixed to rear for post mounting.

(U) Aluminium - Uni-clamps:

Supplied with 2 x uniclamps and drilled sign face.

Traffic facings:

High quality 3M Class Ref 1 & Class Ref 2 reflective traffic & parking signs. All traffic signs comply to BSEN 12899-1: 2001. Class Ref 2 is recommended for high risk areas. Class Ref 1 is slightly less reflective and is more suitable for parking & traffic control.