Infrastructure Signages
Detectable Warning Tape
Used for accurately locating and preventing damage to underground utility installations, this underground detectable warning tape features an aluminum backing that can be found using a non-ferrous locator.
Aluminum foil is visible from both sides. Tape is locatable by conductive and inductive methods.
Acid and alkali resistant nature prevents degradation.
Tape identifies, locates and protects utility lines.
Available in seven colors - blue, green, yellow, red, orange, tan and purple.
Non-Detectable Warning Tape
Non-Detectable Underground Warning Tape prevents damage to underground utility lines during excavation. Following code parameters, bury this tape above electrical lines, gas pipes, communication cables and other utility installations. Resistant to underground elements, this heavy metal-free, co-extruded polyethylene tape serves as a highly visible proximity device that will not turn black over time.
Consists of an inert low-density mono-layer polyethylene plastic film formulated for extended use underground.
Colorfast lead-free pigments prevent discoloration in soil and contain no heavy metals.
Acid and alkali resistant nature prevents degradation. Environmentally safe ink ensures permanent message.
Designed to identify and protect buried utility lines.
Tape is supplied in accordance with the American Public Works Association (APWA) National Color Code.

Available in five colors - blue, green, yellow, red, and orange.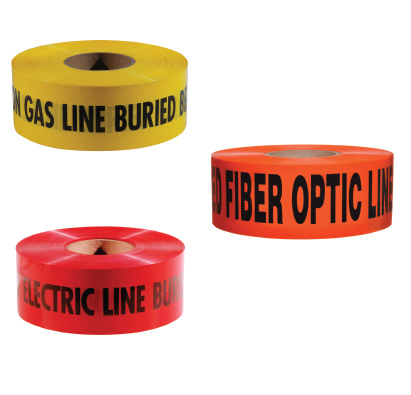 Cable Protection Tile (PE)
Cable Protection tiles (PE) are exceptionally strong and durable which provide best protection to all underground services. Cable Protection tiles made of polyethylene are chemical resistant, rot resistant and lightweight. Polyethylene cable covers include a coloured printed warning tape. Polyethylene tiles are extremely hard and do not crack. These provide clear warning to third parties. Moreover, since these are rot proof ,it is resistant to wide range of soil conditions.Damages to cables are less likely and so it reduces cable repair costs and supply disruption.
PE TILES FEATURES:
Heavy duty, yet lightweight, polyethylene cable covers incorporating a coloured printed warning tape
Rot resistant, chemical resistant from PH-2.5 to PH-11
High impact resistance
Supplied with interlocking pegs for easy installation
Excellent protection properties
Visual Warning
Low transportation and installation costs.
Available up to 20mm thick
Tensile Strength - 8 N/mm
Elongation at break-200%
High chemicals resistance.
Light weight for very easy handling and installation. Clearly printed with identifications or warning, on bright red or yellow base coloration.
Available either simple but secure hole/peg joining system. Giving a flexible but very strong joins.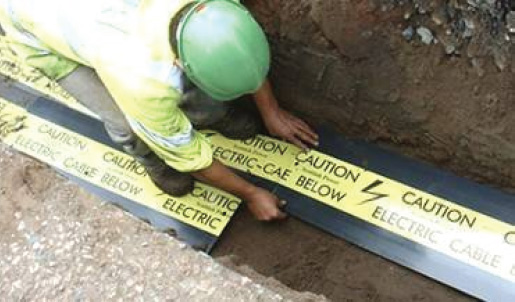 Cable Protection Tile uPVC
Interlocking, rigid uPVC covers to resist the impact of shovels or picks and protect underlying cables and pipelines.
Rigid uPVC cable covers
uPVC rigid cable covers can be supplied with or without interlocking fasteners.Manufactured in any colour with a warning message to describe the buried service (printed in black).
Permanent, non-fading and colour-resistant print
High specific gravity to resist floating when the soil is saturated
Lightweight for low transportation costsand ease of installation
Other thicknesses and widths are availableon request
Features
Light weight for very easy transportation, handling, storage and installation.
Specially designed shape for lengthwise rigidity.
Made from rigid PVC which is resistant to ground chemicals.
Self coloured for permanent bright colouration, enhancing visibility.
Clearly printed with identification, instruction or warnings.
Mortice and tenon joint allows for very strong longitudinal interlock
Design also allows lateral joining to cover a wider area of protection when required.
Standard colours are RED or YELLOW but manufacturing flexibility allows colour, printing and length to be made to order.
Ex-stock.
Compliance with the impact strength requirements of British Standard 2484:1985.